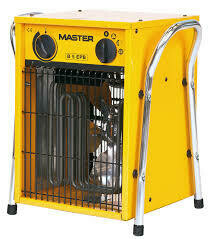 Electric hot air generator. Portable heater MASTER B.
SKU 00139
Product Details
Master B heater. Electric hot air generator with infrared fan.
Our MASTER B portable electric air heater is available in four models: B5, B9, B15 and B22, depending on the power required.
The MASTER B industrial heater is perfect for use in garages, workshops, buildings, closed environments, houses, offices, bars, shops. Agriculture, industry or construction. Recommended for painters, masons, plumbers thanks to its drying function.
Built-in room thermostat
No oxygen consumption
No fumes, no odours, no humidity
Summer-Winter switch for ventilation only
Low noise
Automatic reset
Motor with thermal protection
Stainless steel heating elements
Overheat thermostat
Adjustable heat
Strong and long lasting steel construction
| | | | | |
| --- | --- | --- | --- | --- |
| MODEL | MASTER B5 | MASTER B9 | MASTER B15 | MASTER B22 |
| Power | 2.5 - 5 kW | 4.5 - 9 kW | 7.5 - 22 kW | 11 - 22 kW |
| AirFlow | 510 m3/h | 800 m3/h | 1700 m3/h | 2400 m3/h |
| Rated current | 7.2 A | 13 A | 22 A | 32 A |
| Weight | 6.4 kg | 9.3 kg | 15 kg | 20 kg |
| Size | 310x360x380 mm | 340x420x440 mm | 350x470x490 mm | 350x540x590 mm |
| Resistance norm: | IP 24 | IP 24 | IP 24 | IP 24 |
Save this product for later